"You Are Wicked, You Don't Want Us To Resume" -People Reacts As NCDC Confirms 453 New Covid 19 Cases.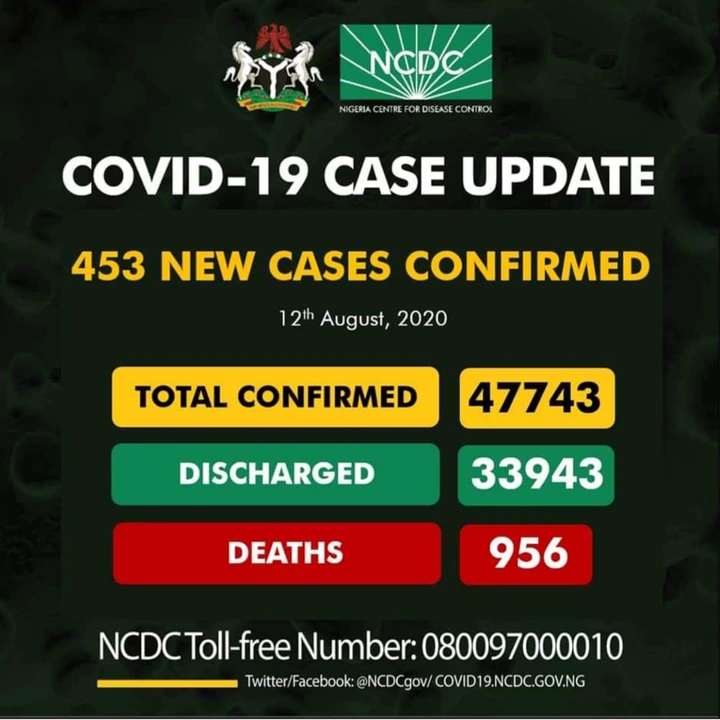 The covid 19 pandemic hit the world hard, Nigeria included. The pandemic has affected almost all all sectors of the country's ecomomy, if not all. The country has now confirmed 47,743 cases, although 33,943 of those patients have been discharged.
In the daily report given by the Nigerian Centre For Disease Control (NCDC), there was a total of 453 new cases confirmed on the 12th of August. This will make it two consecutive times the number of confirmed cases was above 400.
The Citizens were eager to express there veiws on the subject in the comment section. In one of the comment made on Facebook by a man called Oghenevwogaga Edudje, he said, "You are wicked,You don't wantus to resume". He futher expressedhis dissatisfaction by commenting again, he said, "Ona no want make we go school self". He clearly showed he was not pleased by the increasing number of confirmed cases, he was not the only one displeased by this. In another comment made on Facebook by a lady named Vivian Zammy Claire, she said, "we know that dis figures is just to hinder school resumption…All students in Nigeria hand u guys over to God but one thing is sure.. No matter d delay we must still graduate. It his clear that both people who made this comment percieve fowl play on tue part of NCDC. See other comments in below.
Are you in agreement with the comments they made?? Drop your comments, don't forget to like and follow for more information on the subject.