Shocking as Shatta Wale Shades Davido On His Post, Ronaldo Talks about Him And Messi.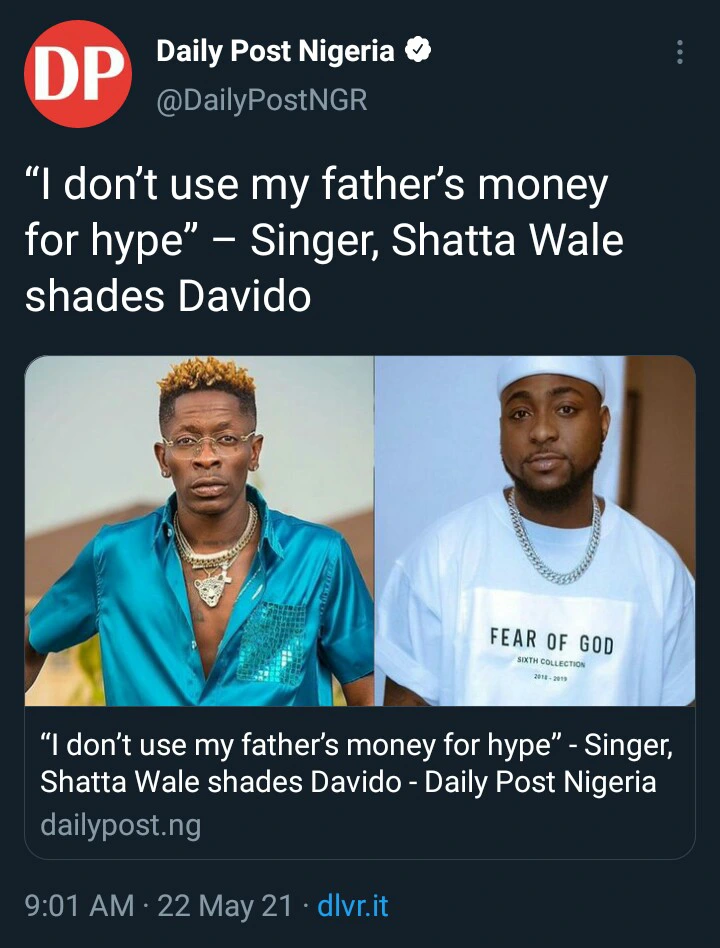 Photo credit: daily post Nigeria
Popular Ghanaian singer, Shatta Wale has taken a swipe at Nigerian artist, Davido after he recently revealed he got himself a Rolls Royce.
Davido had taken to his Instagram account to announce that he just gifted himself his first Rolls Royce as a reward for all his hard work.
"We rise by lifting others but don't forget to reward yourself. Just chopped my first Rolls Royce!! "God is good and am forever grateful to y'all," he wrote.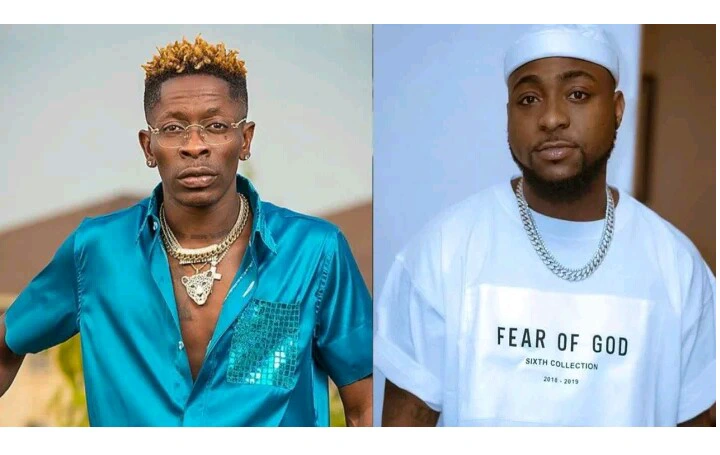 Photo credit: daily post Nigeria
Reacting, the Ghanaian singer who seems to be at loggerheads with Davido took to his Instagram story to throw shades at him for using his father's money to show off and always claiming it's hard work.
Shatta Wale also noted that he doesn't use his father's money for hype but rather uses his own hard earned money to do real stuffs. According to him, "real hustlers are the real money makers."
Ronaldo talks about him and Messi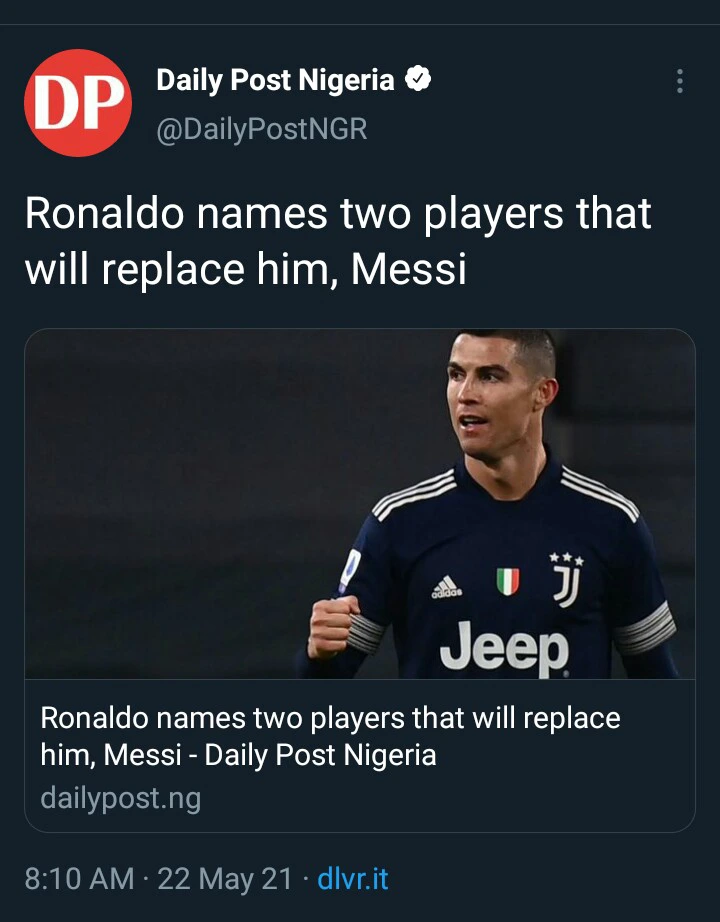 photo credit: daily post Nigeria
Juventus forward, Cristiano Ronaldo has tipped Paris Saint-Germain's Kylian Mbappe and Erling Haaland of Borussia Dortmund to become the next best players in the world.
Ronaldo stated this at his unveiling as LiveScore's Official Global Brand Ambassador. The five-time Ballon d'Or winner said he hopes he has created a legacy that will be emulated after he finally hangs up his boots.
When asked to single out one player he expects to see dominate on the global scale he named two, perhaps with an eye on the kind of rivalry he has enjoyed with Lionel Messi over the years.
Tambuwal tasks NYSC Members on Entrepreneurship.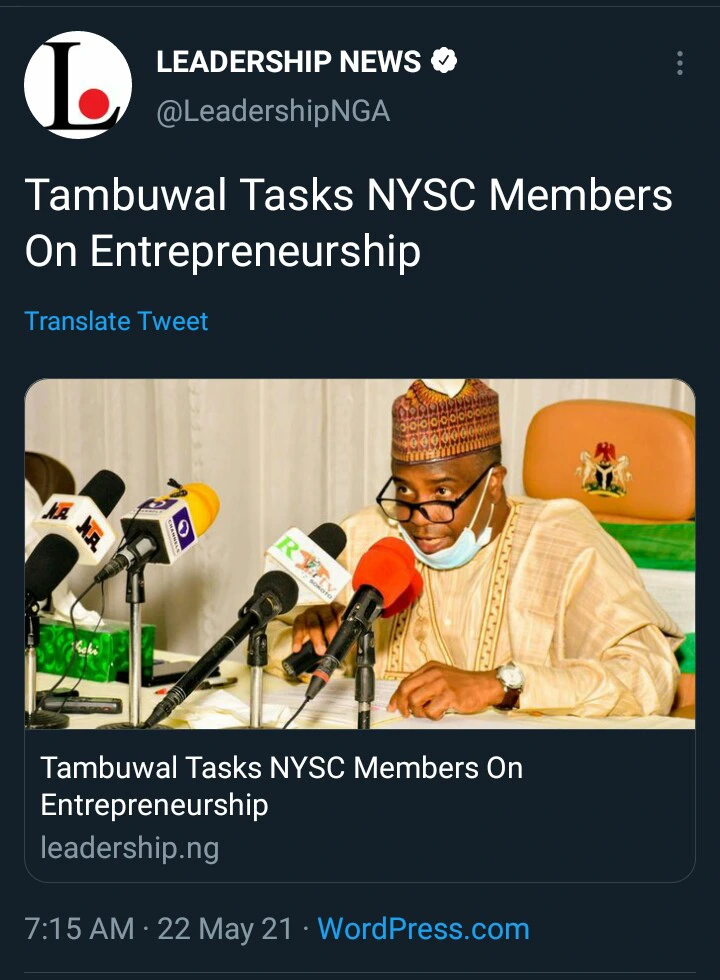 photo credit: Leadership News
Sokoto State Governor Aminu Tambuwal has urged members of the National Youth Service Corps (NYSC) posted to the state to actively use the period to gain entrepreneurial skills.
He made the call during the swearing in of 2021 Batch A Stream 2 Corp members at Wamakko Permanent Orientation Camp in Sokoto yesterday.
He also the assured the members of corps of maximum security and improved welfare during their service year in the state.
Chief Of Army Staff, 6 others to be buried today.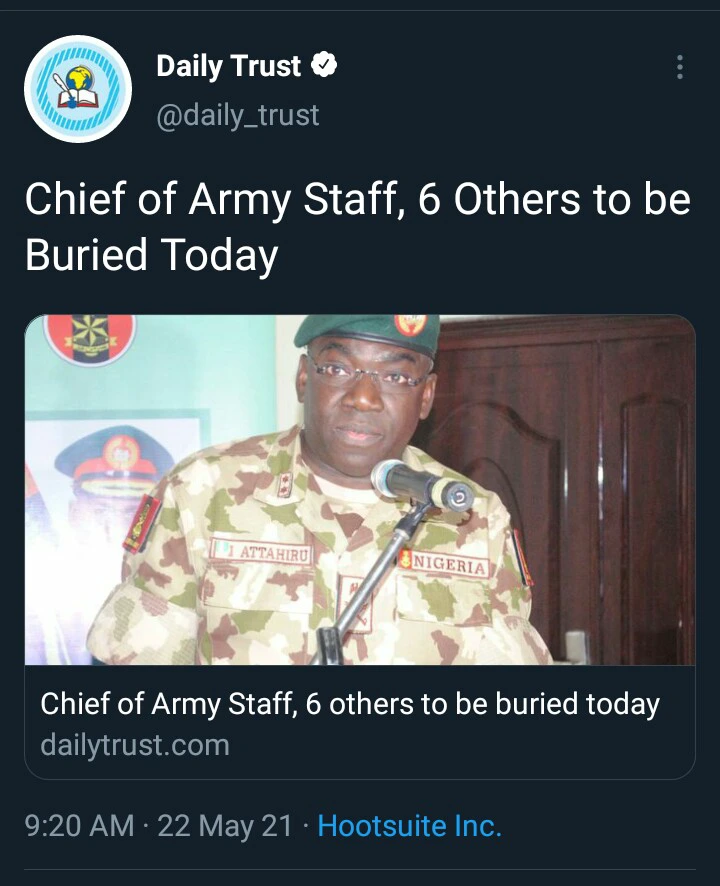 Photo Credit: daily Trust
The Nigerian Army has announced that the Burial proceedings of the Chief of Army Staff (COAS), Late Lieutenant General Ibrahim Attahiru and 6 other senior officers who lost their lives in an air mishap in Kaduna is slated for Saturday 22 May The Director Army Public Relations, Brigadier General Mohammed Yerima disclosed in an invitation letter to media organizations early Saturday.
He said the burial proceeding will commence at the National Mosque and National Christian Centre, Abuja by 1000hrs respectively. He said, "Consequently, the interment for the late COAS and six other senior officers will take place at the National Military Cemetery, Abuja today by 1300hrs."
" Something bad is going to happen in Nigeria in may"- Late Sargent wrote on his Facebook Page on 30, April.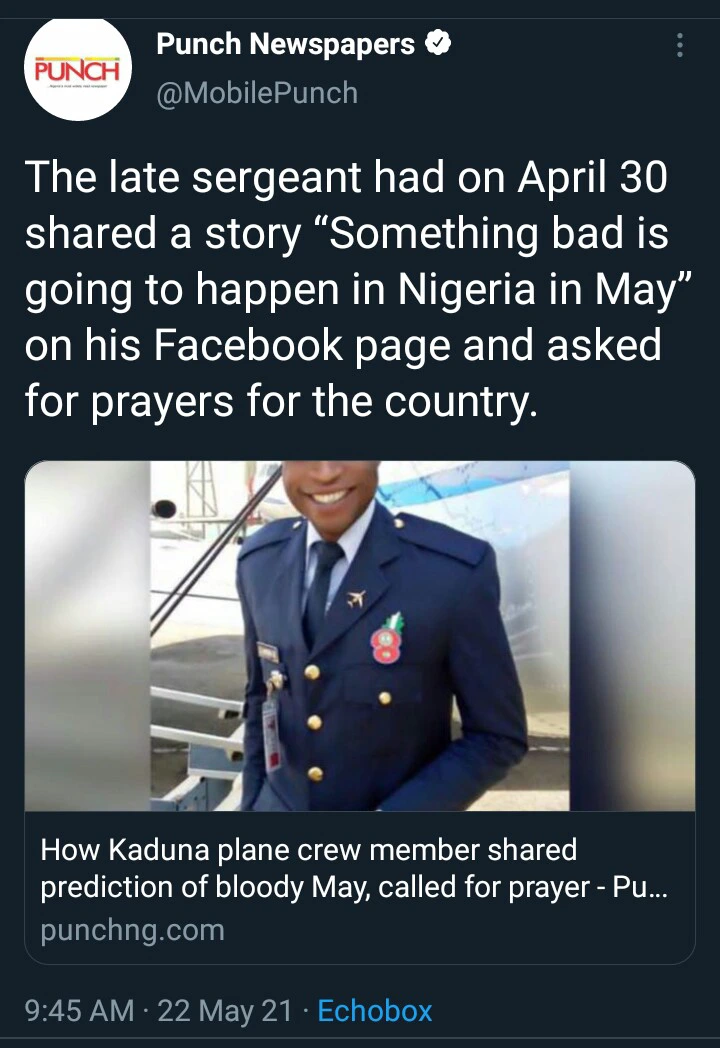 Photo credit: punch newspapers
One of the crew members of the Beachcraft 350 aircraft that crashed at the Kaduna International Airport on Friday, Sgt Adesina Opeyemi Deeziah, died less than a month after sharing a post predicting bloody May in Nigeria and asking for prayers for the country.
Adesina and the newly appointed Chief of Army Staff, Lt. Gen. Ibrahim Attahiru, as well as nine other military personnel were onboard the jet when it crashed around 6pm on Friday. The 11 souls died in the tragic incident.
The late sergeant had on April 30 shared a story "Something bad is going to happen in Nigeria in May" on his Facebook page and asked for prayers for the country. Adesina had written, "This parable is heavy. Me and you need to pray for our country Nigeria."