Another Drama again at Ikorodu Garage as Soldier Beat up Police Men for Harrasin A Young Man.
Police men have been on the media as plenty they have fun of Harrasin innocent people. The police got beaten blue black, as they harrass a young man at the Popular Ikorodu Garage. Eyewitness said that thee police men stopped the young Man and wanted to arrest him for no reason. Which the resisted as he has the right to do so, which began to draw the attention of neighbors and people around.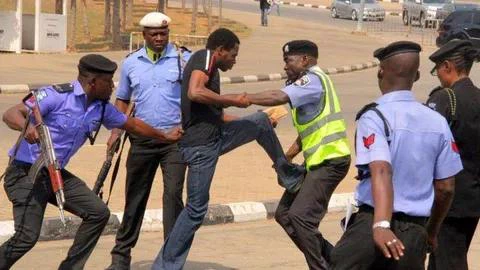 As the two police were beating the young man, fortunately for the boy, two soldiers came for the boy's rescue as they intervened asking the police officer what happend, but the police officers couldn't give a reasonable answer. The young man explained what transpired to the soldiers and said he did nothing wrong. But out of anger the soldiers began to shower slaps on the police officers.
With anger the soldiers beat up the police men mercilessly while leaving the young man go.
Check out pictures and tweet from the incident below: