Weddings are meant to be one of the most special events or occasions of our lives. It is the day we celebrate the coming together of ourselves and our partners till death do us part. People like to have some great ideas for their wedding ceremonies. Some want an elaborate and loud wedding party while others prefer it simple and within a close circle of friends and family.
As a matter of fact, some people, in a bid to have a big wedding ceremony go into debts or take out loans just to an elaborate wedding. And to honest, the sentiment with weddings is mostly among the ladies than it is among the guys. A Guy just wants to get it over the line, say vows and take his bride home for honeymoon and all. It is the ladies, in their own circle of friends, that sit down and orchestrate some out of the world idea of a wedding which the poor man is expected to fund.
Yes, the man will be the one paying for all that expensive stuff. That is why when a lady told her fiance the kind of wedding she wants, the man had to run for his life. The man who goes by the name Nwoke Agulu on his twitter account shared his experience via a tweet. This is what he said;
"I once dated this girl, she told me that we will do 4M Naira wedding, I will deposit 1m in her account 4q wed expenses and also she will sell asoebi cloth.. to cut d story short, I went to hospital and forged medical report that I am AS because she is AS.. She cried, I cried We move"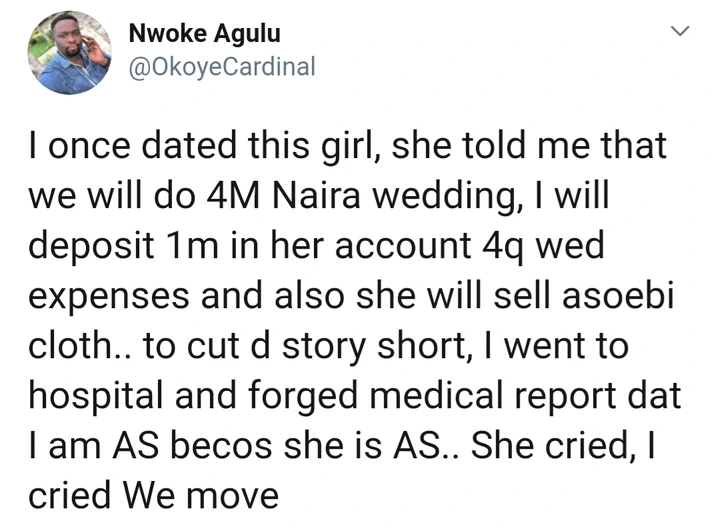 This is hilarious and it shouldn't be. But how can I blame the man. A whole 4 million naira for a wedding in this economy? Does she know the kind of business she can start with that amount of money rather than spend it on a mere wedding ceremony?
Many people reacted to this revelation as they lauded the man for being smart. See what they are saying.