Dj Cuppy Reply A Fan Who Said Her Landlord Will Throw Her Out Of The House For Supporting Man United
Florence Ifeoluwa Otedola, professionally known as DJ Cuppy, is a Nigerian disc jockey and producer. She is one of the daughters of Nigerian business man Femi Otedola. She was born on 11 of November 1992.
Dj Cuppy as we all know is a great fan of football and has declared her new undying love for Manchester United after dumping arsenal.
Her haters increased for her decision, mostly Arsenal fans as they keep trolling her for being the bad luck because they have won all their matches since she left them.
After Manchester United's 5-2 win over Bournemouth, Dj Cuppy tweeted and celebrated it and an arsenal fan wasn't happy about it. According to him, Dj Cuppy can't be living in London where there is Arsenal and Chelsea but shows support to Manchester United.
The fan wrote "Cuppy, I'll still tell your landlord to send you out. You can't be be living in London and support man utd".
Dj Cuppy known for her interactive session on twitter replied him with "What if I'm my own landlord" (With an eye emoji).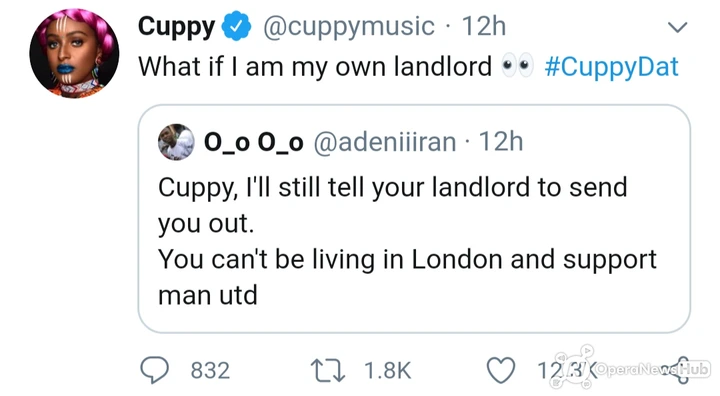 Well, no one knows for sure if she's the landlady of her apartment in London 🤷🏿‍♂️.
Dj Cuppy has also confessed that she has been happy watching football since she joined Manchester United as they have been on top of their game since then.