COVID-19: 'Are We Fools' Nigerians React After NCDC Discharged Over 11k People Within 24 hours
Nigerians have expressed their views following reports from the Nigerian Centre for Disease Control (NCDC) that it has released more than 11,000 cases of VIDOC-19 after its recovery.
The report, which was posted on the NCDC's official Twitter feed, confirmed a total of 44,433 cases of COVID-19 as of August 4, with 31,851 cases released and 910 deaths recorded.
However, compared to August 3, there have been 44,129 confirmed cases, 896 deaths and 20 discharged cases (663), a significant increase of more than 11,000 in 24 hours.
Several Twitter users used their Twitter handle to call the NCDC.
See some reactions below;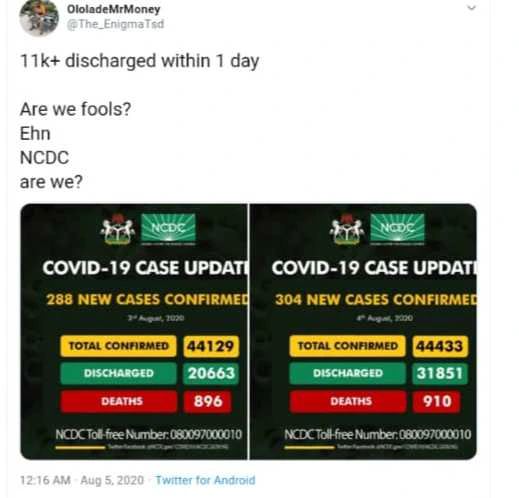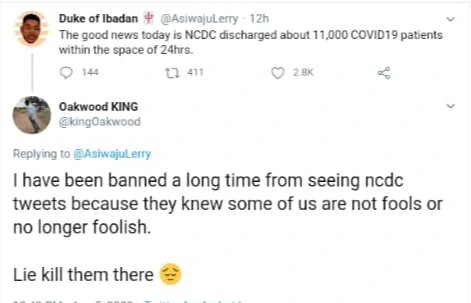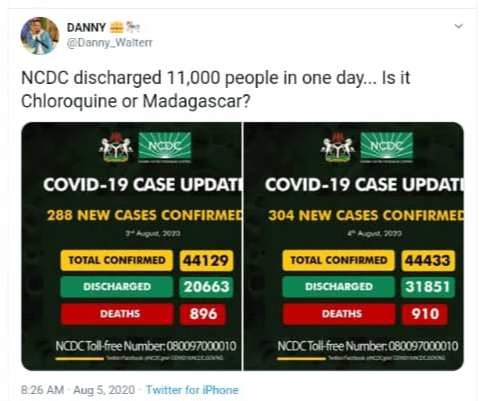 Meanwhile, the NCDC has stated that it is working hard to ensure that Nigerians have access to COVID-19 vaccines as soon as they become available.
Chikwe Ihekweazu, Director-General of the NCDC, gave this assurance during the briefing of the Presidential Working Group (PWG) on COVID-19 in Abuja on Monday.
Mr. Ihekweazu said the Center was working with the global community to ensure this access.
He said data on COVID-19 vaccine research and development by the global scientific community showed that results on a potential vaccine are expected by the fourth quarter of 2020.
While noting that a vaccine is the best weapon to tame the virus, the DG stressed that equitable access is crucial.
He added that the health authority was working with other colleagues across the continent through CDC Africa to push for some of the trials to be conducted at African institutions in the short term.
"To do this, we need to build capacity, collect enough data and involve African institutions in these efforts.
"We need to start preparing the Nigerian population for the delivery of vaccines as soon as they are available.
"Access to vaccines is a very important issue when it comes to vaccines; the fact that a vaccine is developed does not necessarily mean that it is available to those who need it most.
"Therefore, the World Health Organization (WHO) is working with the Global Alliance for Vaccines and Immunization (GAVI) through the COVID-19 Accelerator Tools (ACT) to ensure that vaccines are available to countries regardless of their ability to pay.
"This is an ongoing project and we are all working with CDC and GAVI in Africa to ensure that the Nigerian population has access to a vaccine as soon as it becomes available," said the head of NCDC.