The phrase "Benefit boys" is a trending phrase used in describing yahoo boys; so whenever they say someone is a benefit boy it means he is a yahoo boy.
Benefit boys have been trending on Twitter earlier today. It all started from when a secondary school boy arrived school with a Benz He made a video of him and his teacher. In the video he was seen bragging about his fraudulent acts which have earned him money during the lockdown period.
He also posted a photo of him and his friends together with his teacher. He referred to his squad as benefit boys. He was seen in the photo stepping on his teachers toe.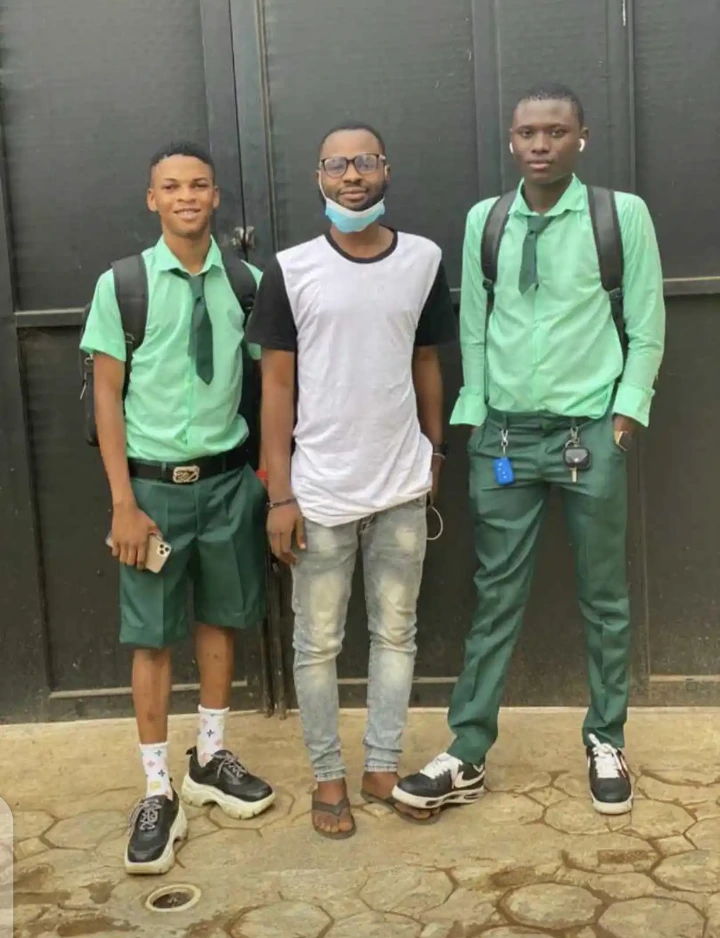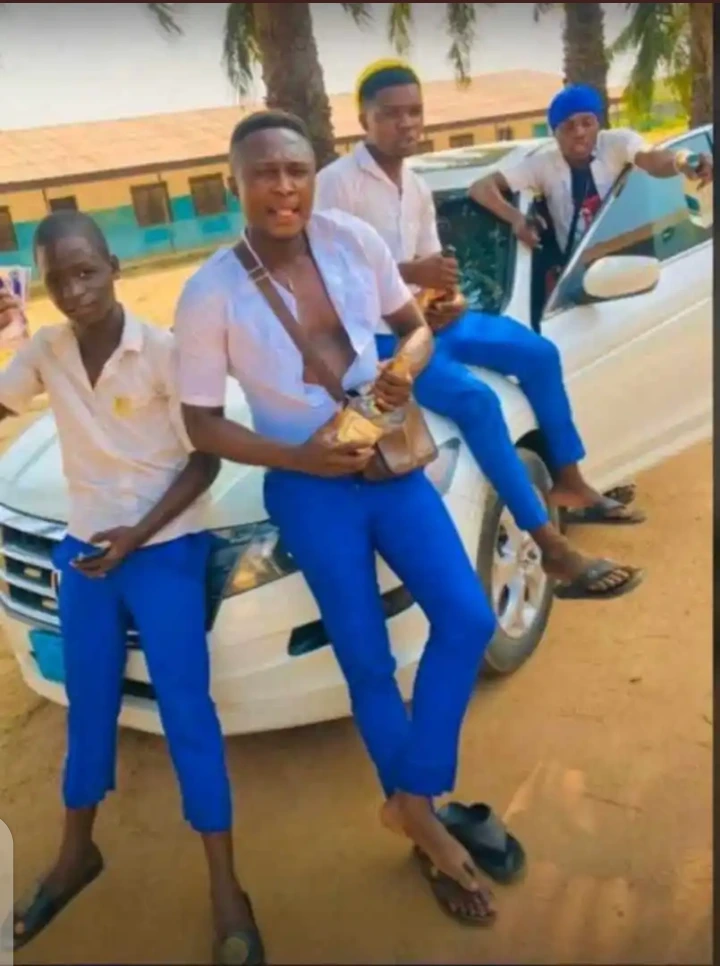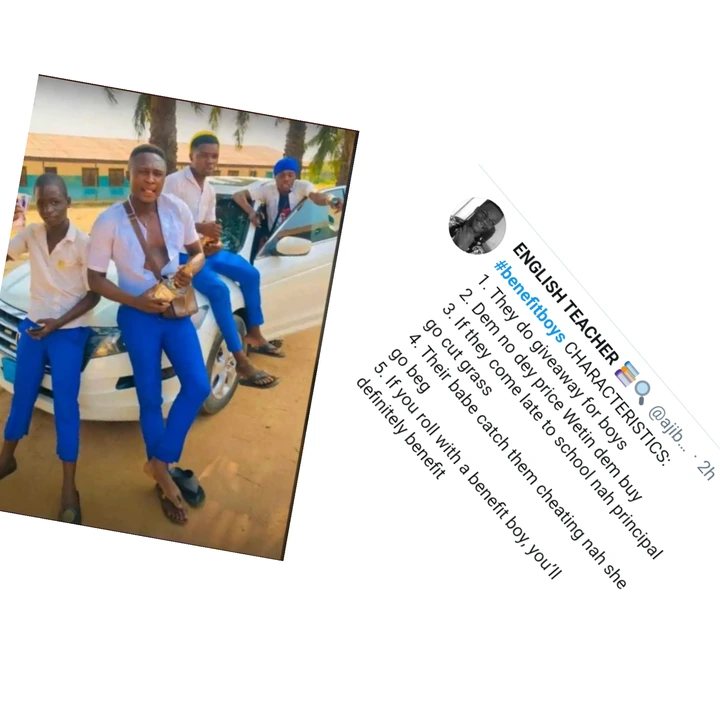 Nigerians have taken to their various social media handle to talk about the issue.
Valking wrote "Omo #benefitboys Dey smoke weed for school, principal say make teachers leave them say na High school Face with tears of joyFace with tears of joyFace with tears of joy
Omo #benefitboys don go buy Samsung Tv put for class, he say he no wan Dey miss Big Brother."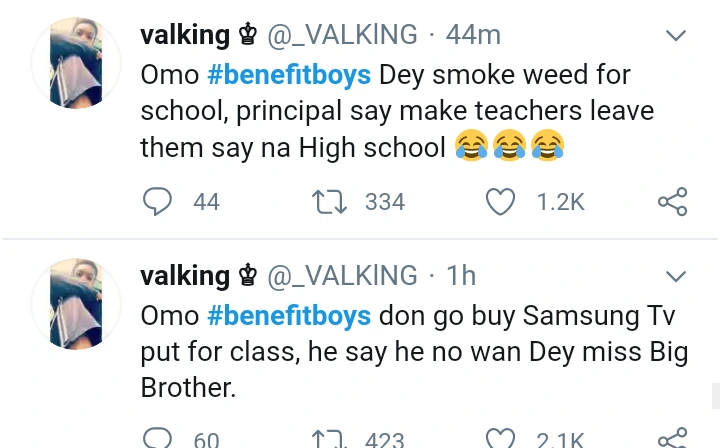 Aloe vera wrote "New teacher say make students introduce themselves, #benefitboys say make teacher drop him account number say he go see hin name for the alert SkullSkull"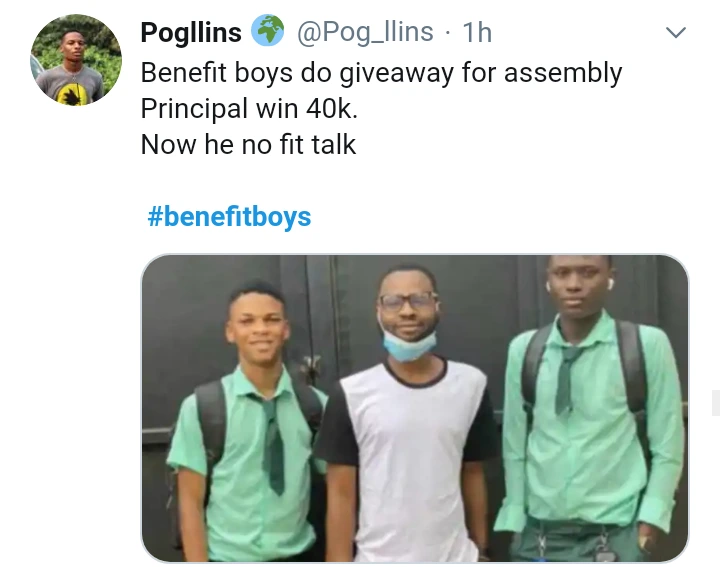 Alameen wrote "Principal ask benefit boy to cut grass for late coming, benefit boy com call one teacher and promise to sponsor his masters degree if he cut the grass for am. As i dey type now, the teacher is looking for cutlass.#benefitboys"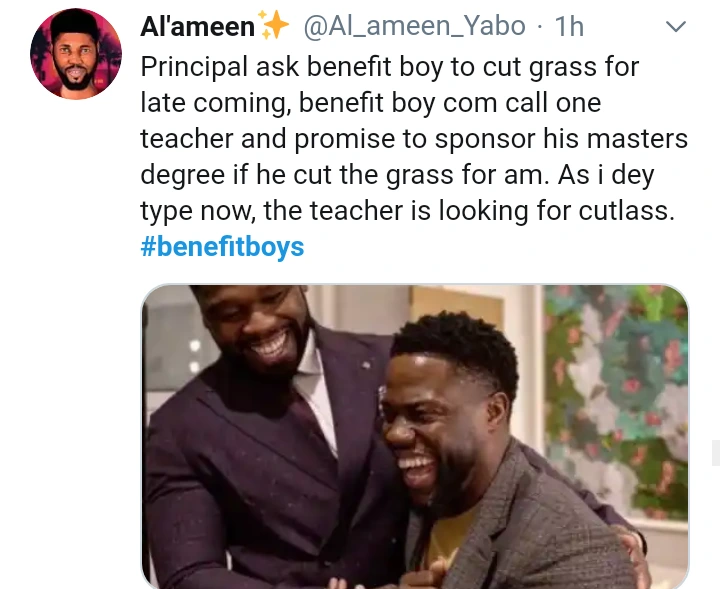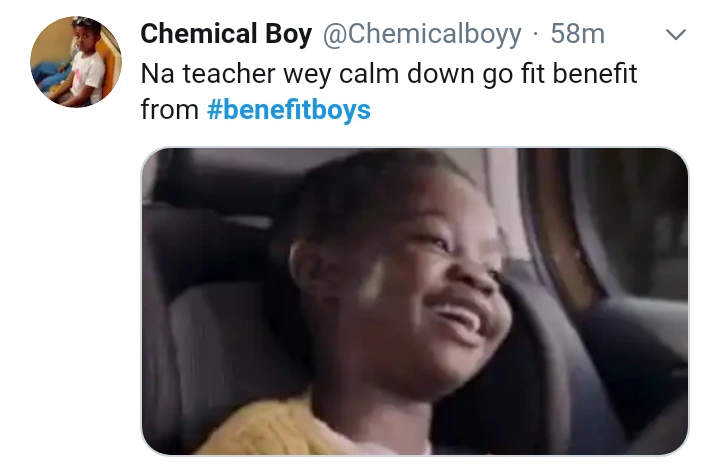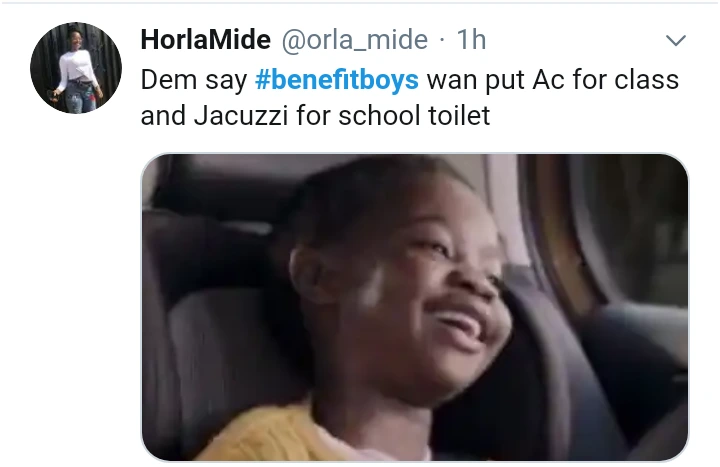 Gracious wrote "#benefitboys say make their English teacher follow client talk. Them go pay am."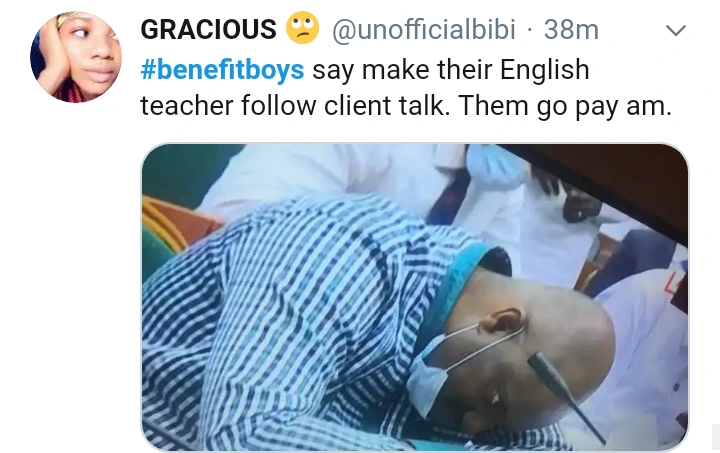 Adewale wrote "Benefit Boys don go commot Buhari picture hang him own picture for Principal office.
– Principal tell Benefit Boys make dem cut grass because dem come late. Benefit Boys carry the contract give PHE teacher "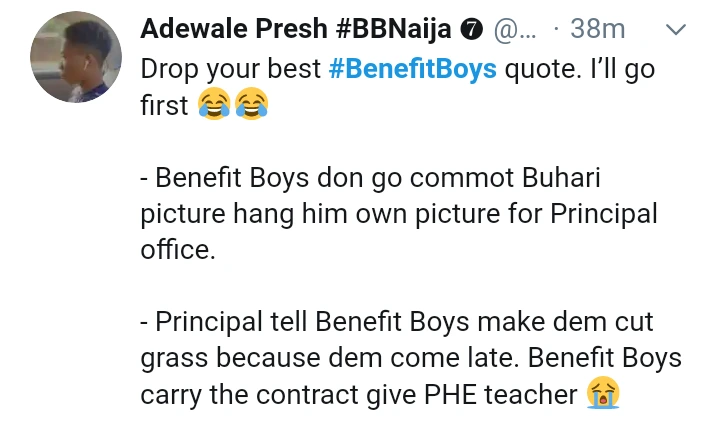 Martial wrote "Benefit boys tell maths teacher say make she no dey use #naira do example again na $dollars dey want as example "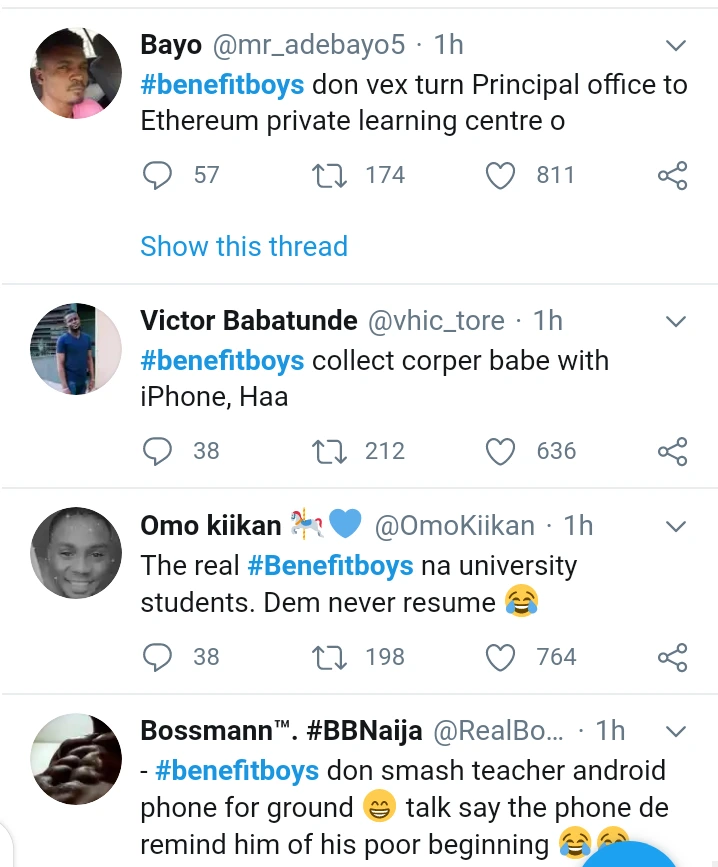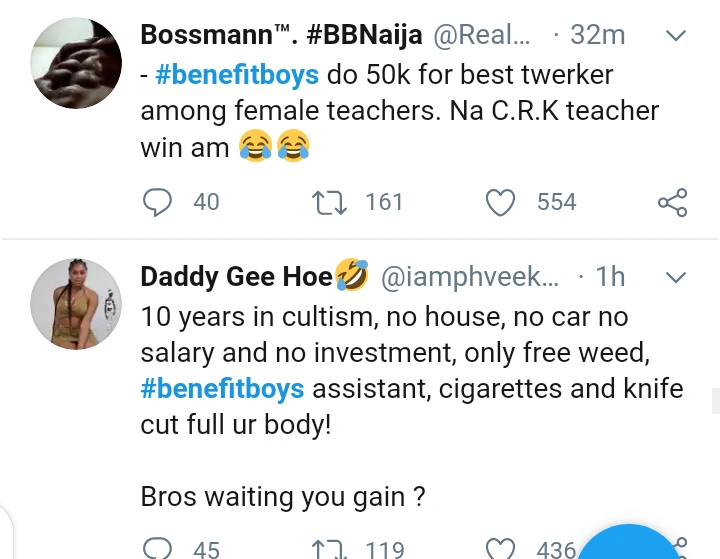 English teacher wrote "#benefitboys CHARACTERISTICS:
1. They do giveaway for boys
2. Dem no dey price Wetin dem buy
3. If they come late to school nah principal go cut grass
4. Their babe catch them cheating nah she go beg
5. If you roll with a benefit boy, you'll definitely benefit fit."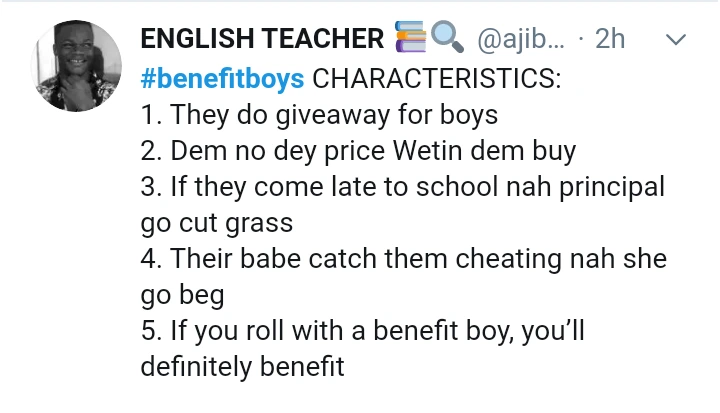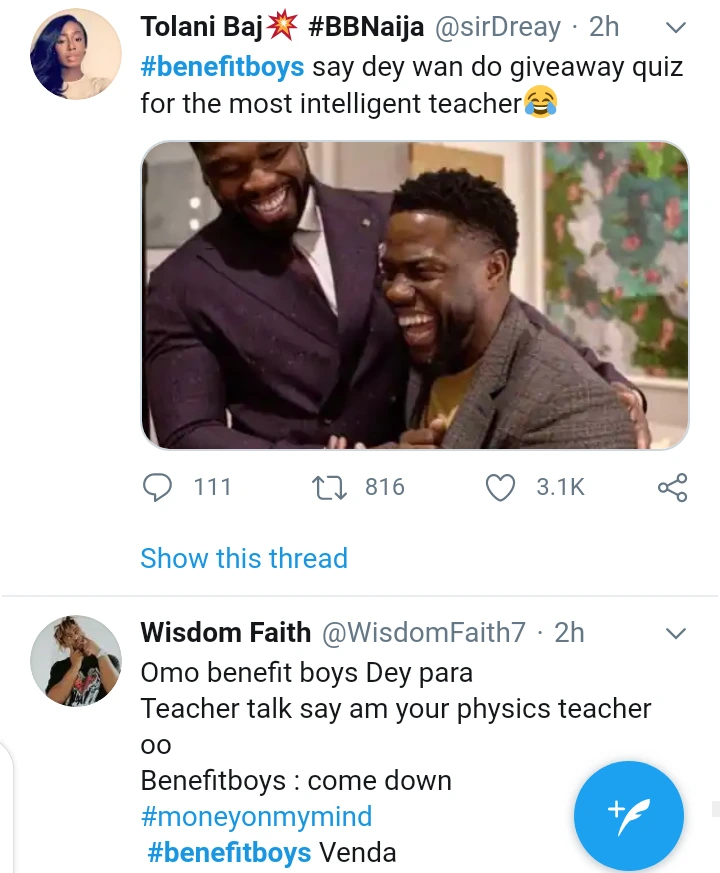 Dr chika wrote" Scam is Scam. Call it #benefitboys , Gboys or yahoo boys. I have seen very funny stuffs here but if we continue this way, we will end up encouraging young students to embrace crime."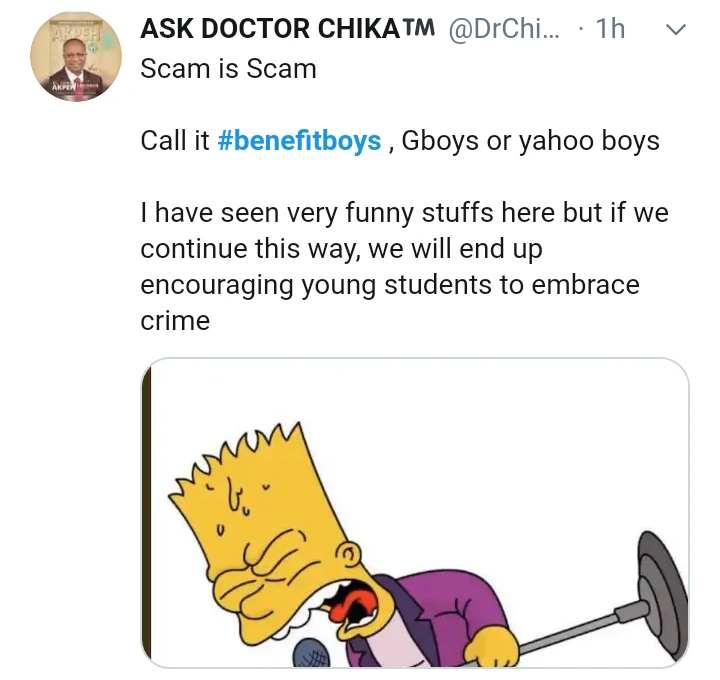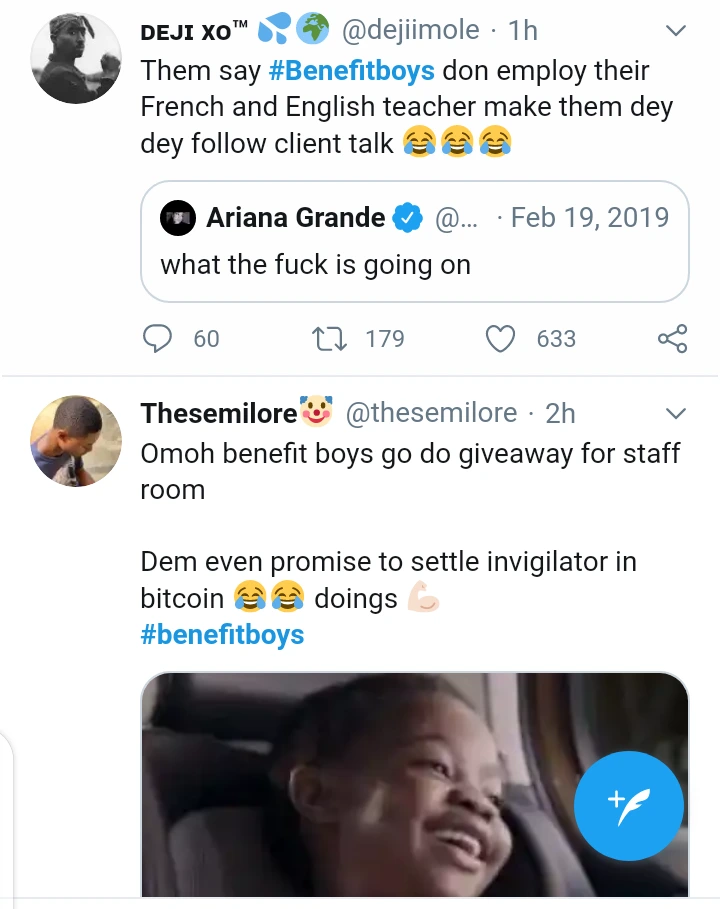 Mohnice wrote "Benefit boys do giveaway for assembly, Principal win 20k, headboy chop 10k
-Benefit boys tell maths teacher make him no use Naira dey do example. Say na dollars them wan see for board.
-Benefits boy carry Benz park for parking lot close to principal tortoise car#benefitboys"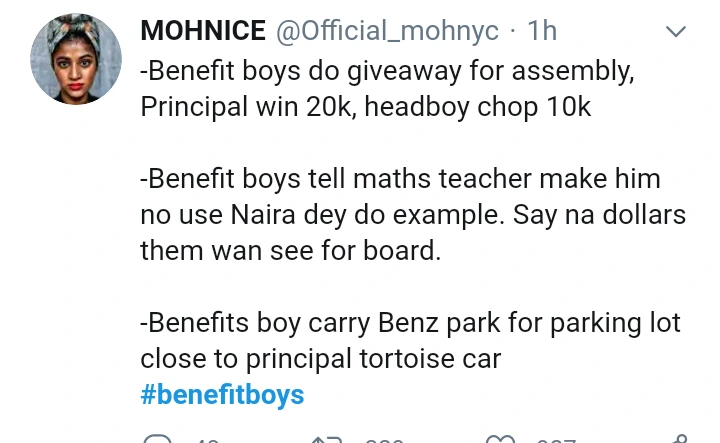 Our country is really turning into something else, many youths don't work legally again. All they do is internet fraud.