Nigerians have reacted to the news of Nigerian president, Muhammadu Buhari endorsing the Edo state Governorship candidate, Pastor Osagie Ize Iyamu at the state house on Friday morning.
Torixus reported with photos, that the Nigerian president, Muhammadu Buhari endorsed the former member of Peoples Democratic party, PDP to hold the flag of All progressive Congress (APC), in the fourth coming gubernatorial election scheduled to hold on September 19.
Nigerians on seeing the report, throws their opinion to the recent switch of support from the president, who is well-known to be in a very good term with the PDP governorship candidate, Godwin Obaseki.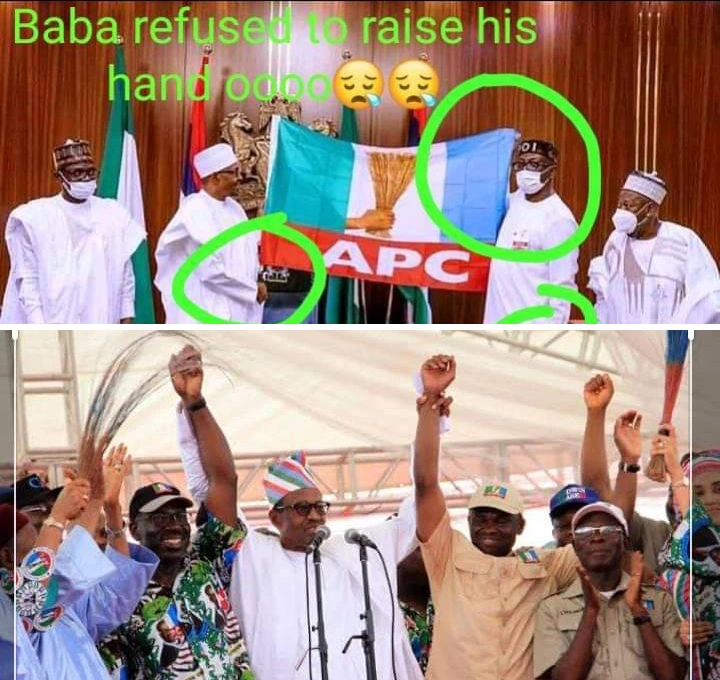 A social media user named Mathew commented in reference to the previous governorship election held in the state in 2016. In his reaction, he published a photo of president Buhari endorsing Obaseki while lifting his hand and the recent photo of president Buhari endorsing Ize Iyamu by handling APC Flag to him. He said that the two display shows how the league of support works.
He said; "Baba refused to raise his hand, The difference is very clear.
Others also said their mind concerning the development . Read more comments below;
"Buhari is not aware of Sept 19, 2020 election in Edo state. Taking pictures with him doesn't change anything.
Pastor Osagie Ize-yamu defeat is the surest thing. Stop deceiving yourselves!." Fortune said
"I want to ask the APC members this is the same man every one of you condemned 2016 but today you people start praise him to high heaven. Ize iyamu suddenly become a saint." Fidelis Okpeahior noted
"It shows that Nigeria laws don't count. Our system is highly corrupt and not strong enough. I don't think Nigeria should be a country. To start with, who is the candidate of Apc Governoship election, who is the chairman of Apc in Edo state. Cos the last time I check, Ojeizua is the chairman, and he has said nor candidate till 2024. So why d bridge of law?" Murphey itua peened
Emmy Ukpai said; "So is inside villa they hand flag to him? It means Buhari is not proud to identify with him in public. Although he is not a candidate."