Nigerians have taken to social media to disapprove and condemn Tacha and her team for dancing on the runway during her catwalk presentation.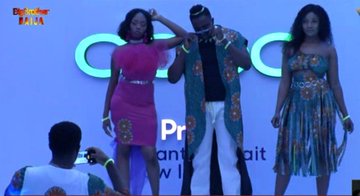 Tacha who decided to be goofy on the walk way along side Khafi and Sir Dee have got so many condemnation on twitter because they danced on the runway. According to them, models should not dance during a catwalk show.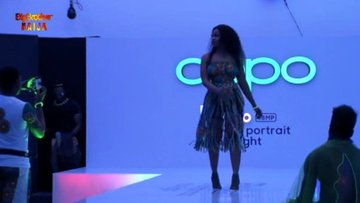 Nigerians think Tacha and her crew did too much and they do not deserve to win because they did what they were not supposed to do. Some think it very unprofessional while others think they were being creative.
See some reactions below:
I see that Dancing as Unprofessional!
How can you dance during a Runaways, when you're not the Host, that's free to gbe body e.#BBNaija
41 people are talking about this
Twerking on the runway. OK oh #BBNaijia #BBNaijaPepperDem
See chanty's other Tweets
So you guys haven't seen models dance on stage before ha!! Abeg carry your phone and google it models dance on stage not only ballet…. Don't be a hater appreciate good stuffs
See Jey's Thrift's other Tweets
Catwalk not dance
Tacha n Khafi repeat after me: CATWALK not DANCE
Thank you #bbnaija
See Nthateng Mokhochane's other Tweets
Nthateng Mokhochane

@DiamondLesotho

Catwalk not dance
Tacha n Khafi repeat after me: CATWALK not DANCE
Thank you #bbnaija
You can actually dance on the runway. Remember that woman that was representing Nigeria and dance Zanku on the runway? So, dancing on the runway is not far fetched
See YomYom's other Tweets
Let's see the judgement now, why are you dancing?? #bbnaija
See Oduye's other Tweets
And who says models don't dance on stage and those women danced zanku on stage but since it's tacha's team now models no longer dance on stage
See Preshlenas's other Tweets
It's so obvious that some people on here don't know that models dance during runway.

After they say Tacha is dumb!

Apparently y'all are so dumb.

Yes. Models dance during runway#TeamTacha
See prosper ezidiukwu's other Tweets
©.K.¥ [14k ]™____

@colbykasongo1
True, dey were not supposed to dance on d run way
See Bee's other Tweets
is called runway not danceway
See erecy's other Tweets
Shebi una see say dem they dance for runway……. people and useless mouth
See Power's other Tweets
Do you think they did bad by dancing on the runway?
Please share your thoughts in the comment section below